Welcome to the support center of VolFix

В order window, в случае использования боксового или кластерного типа графика, слетает масштабирование при изменении любых настроек, лимитов по объему, выходе из платформы, смене инструмента. Это сильно неудобно, тк ни максимальное ни минимальное увеличение не подходит, нужно именно заданное определенное – соответственно приходится постоянно его подстраивать.
Просьба, сделайте пожалуйста запоминание заданного масштаба графика в order window для типов графика box и cluster, как это происходит в обычных cluster profile / box chart, и при использовании типа графика бары в order window

В правом верхнем углу кнопки on off https://www.screencast.com/t/jXStWlMN0 которые включают авто стопы и тейки, когда на них нажимаешь не понятно нажато или нет, можно сделать так что бы они светились когда функция активна?

есть ли возможность добавить алерты на размер заявок в стакане?

Hello
Please can you check the command : Add brackets --> trailing stop .
Attached image: 5 lots bought +12 pips, display 4 lots / 3 orders
With thanks.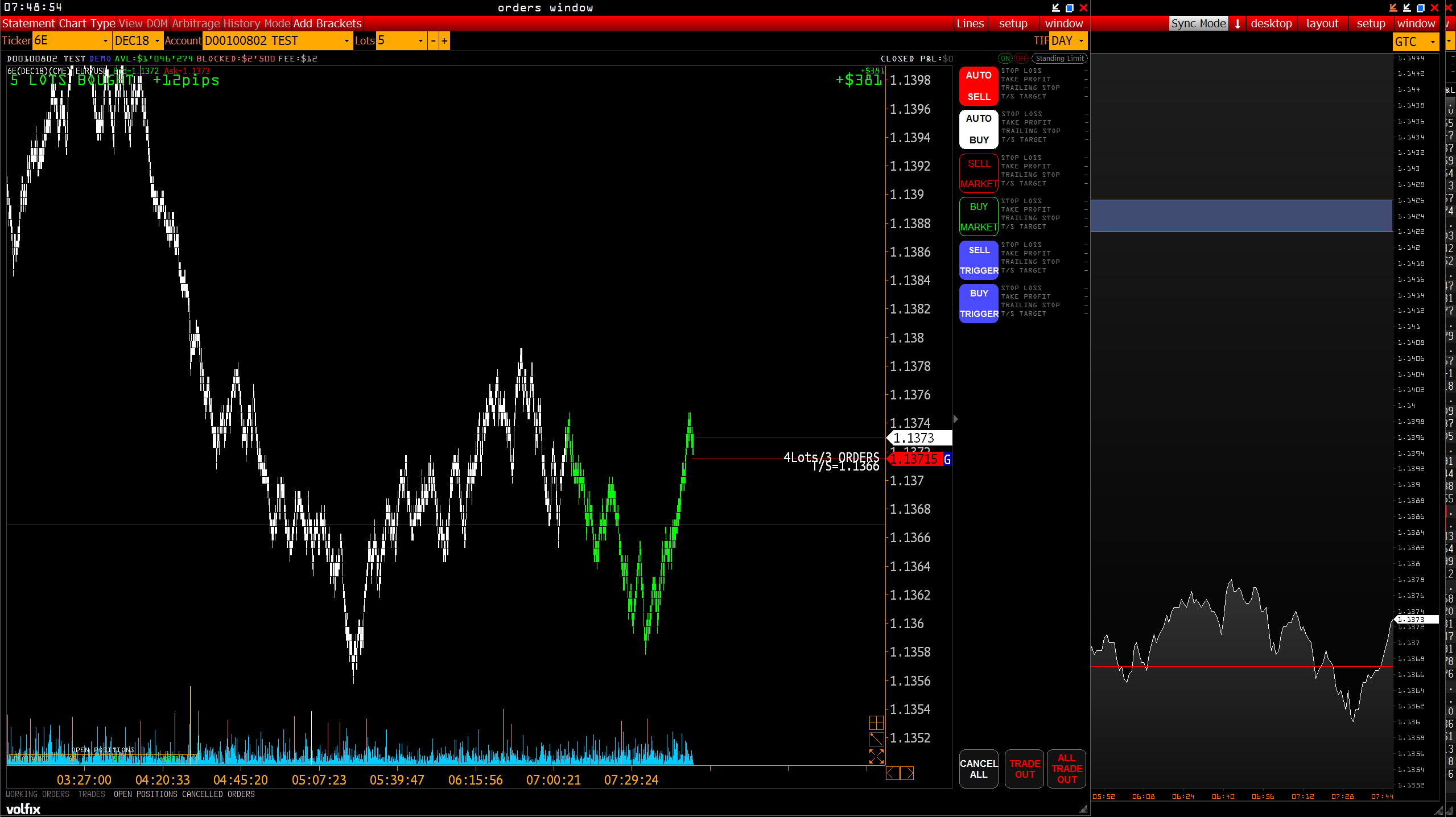 When an alert pops up and one places an order the same time the software crashed and needs to be restarted. Had that issue two times.

Closed P&L from previous day is still shown in my order windows.

When I close Volfix it says there are still open positions - I checked all accounts and canceled all trades in the order window to be on the safe side but error (?) remains. Any ideas how to ensure that nothing is left over night?
Also, I cannot see my statement. It says data are not loaded. The account balance is from yesterday and a blocked amount is indicated. Any ideas here?
Thank you.

Could you add the alert lines to the orders window?

Connection offline since 3 hours. Any ideas?



Hi,
is it somehow possible to delete the ticker symbols or lot sizes from the drop-down menu in the charts / order window?
In other programs it works with the "del"-button for instance, however, here it doesn't work.
In case it is not directly possible with the drop-down, maybe it is doable via a Volfix windows file such as a .txt. file for example?!
Thank you.